Gnosis (GNO) is a prediction market dApp built on the Ethereum blockchain. Offering a complete infrastructure layer and developer tools for building your own prediction market application rather than just building a prediction market, Gnosis can be used to build a prediction market about any probability.
Gnosis enables individuals and companies to predict future events with insights from data science and capital markets. The platform also offers users the Dutch Exchange platform and a multi-signature wallet.
Gnosis's prediction market relies on user predictions to gather information about future events. Users in the market, exchange tokens that represent the outcome of a particular event. Since some predictions are more likely to come true than others, the values ​​of the tokens used in these predictions differ from each other in the open market. Some token outcomes may be more likely to materialize as events and public opinion change over time. This increases the price of these tokens. When the event occurs, tokens that represent the correct result will have full value, while other tokens will have no value.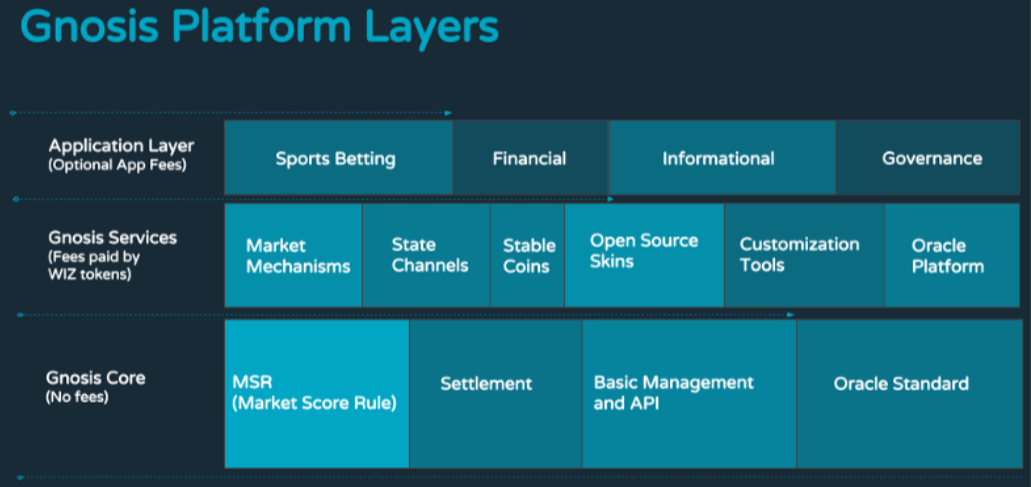 Layers of Gnosis
The Gnosis platform has several layers. The Gnosis Core layer provides the underlying smart contracts for using the platform. Event contracts, outcome token generation and market mechanisms are simplified with the help of these smart contracts. In the always open and free layer, only the result token creation is paid. It is only necessary to pay gas fees to create new markets.
Gnosis Service layer uses a trade fee model that provides additional services on top of Gnosis Core. Optimization tools like chatbots and stablecoins are essential for most consumer apps built on Gnosis. While some applications and participants will interact with Gnosis at the core level, most applications generally also use the service layer.
The other layer is the Gnosis Applications layer. These applications primarily target a specific prediction market use case or customer segment. Some of the applications here are created by Gnosis, while other applications are created by third-party developers. Gnosis's goal is to have a wide variety of prediction market applications built on the same liquidity pool. As the variety of applications increases, alternative business models such as advertising, market-making, information sales and similar will be used.
GNO Token
The GNO token, an ERC20 token, was launched on April 24, 2017. The total GNO supply is fixed at 10 million GNO. At least two result tokens must be created for each event contract. Each time a result token is generated, Gnosis is paid a fee for using the platform. For example, "Which country is next to accept Bitcoin as a legal tender?", for a prediction market that asks the question, the outcome tokens could be Paraguay, Venezuela, Anguilla, Ukraine, United States and Other. Platform fees can be paid in OWL, which is equivalent to one USD.



Gnosis X
Gnosis X is a competition designed to encourage developers to build dApps on Gnosis. The competition where the developers compete is repeated during certain date intervals. Different categories for dApps will be given by the Gnosis team and participants will have three months to develop their best practices. In competitions, which can be entered as a team or individually, applications will be evaluated by a jury of Gnosis team members, business experts and blockchain experts.
Developed dApps should try to have a clear added value and gather information. DApps with an attractive user interface and easy to use will be one step ahead. Developers of the winning dApp will be rewarded with $100,000 worth of GNO tokens. 40% of the reward will be distributed immediately and the remaining 60% within 6 months of reaching certain milestones. Special developer support is provided by Gnosis to the developers participating in the competition. Anyone interested in building a dApp on Gnosis can join the Development Incentive Program. Some of the projects that have received support from Gnosis are Alice, Corb, and Dorg.
Gnosis Y
Gnosis Y is an open-ended, ongoing developer training organization. Focusing on fundamental questions about prediction market applications and blockchain technology, Gnosis Y aims to support the community that creates and promotes decentralized prediction markets. According to the Gnosis team, with incentives such as Gnosis X and Gnosis Y, the Gnosis platform has had the most reliable price predictions in the prediction markets.
You may also be interested in our article below.