The cryptocurrency ecosystem hosts new projects almost every day. Many of these projects promise high returns, but it takes a lot of effort and time to get these returns. For cryptocurrency investors, long-term investing or trade is among the alternative earning methods. However, technical knowledge is required to be a successful trader.
As the Coinhunt team, we will analyze the Robobit Finance project for you. This project includes many features such as autonomous trading and staking. It has already attracted the attention of many investors with its features that will bring a new breath to the DeFi world.
''RoboBit is the DEFI platform created on the BSC Network, which creates its own ecosystem with web3 Technology. Robobit Finance have own system for RoboBit's auto trading bot and its Highest & Fastest Auto-stake/compound protocol in Defi. RoboBot rewards users with a sustainable Flexible APY up to 404,199.95%, compounding every 3 seconds.''
Robobit Bot: Equipped with Hi-Tech, Created to Earn
Trading bots have been used in cryptocurrency for a long time. However, trades made by bots are not always successful. Because the only alternative is to buy low and sell high. Any negativity during these processes may result in loss. All of these transactions are open to intervention as they are carried out in centralized exchanges. However, Robobit Bot doesn't just focus on a single earning method and uses decentralized exchanges. We will explain below the other features of Robobit Bot, which is built on multiple sources of income.
High Profits with Auto Trade: Many trading bots are designed for single transactions. It is also programmed to work on centralized exchanges. For this reason, the profit rate is low and includes risky transactions. But RoboBit Bot is designed to auto-invest in any token in the Pancakeswap (dex) with many auto trading options where the Robobit Bot buys low and sells high automatically and giving you huge profits
Advanced Trading Technology: Robobit Bot is a high-tech product developed by trade experts and professionals. Thanks to its auto-invest feature, it achieves success in 80% of the transactions. Cumulative earnings accumulate with the auto-invest feature, so earnings become long-term and regular.
Accuracy of Robobit: Many trade-bots cannot predict except for certain parameters. The only purpose is to buy low and sell high. Therefore, accuracy is low. Robobit Bot examines all parameters before trading. Therefore, RoboBit Bot is very accurate and has well-developed strategies that will bring you profits.
Robobit Staking
One of the most common methods of earning passive income is staking. Many finance projects include staking, but the APY rates are seriously low. RoboBit's staking offers Highest & Fastest Auto-stake/compound protocol in Defi. Rewards users with a sustainable Flexible APY up to 404,199.95%, compounding every 3 seconds.
RoboBit's Staking will be unlocked after the launch of the Token! Staking revenues will appear as APY after launch.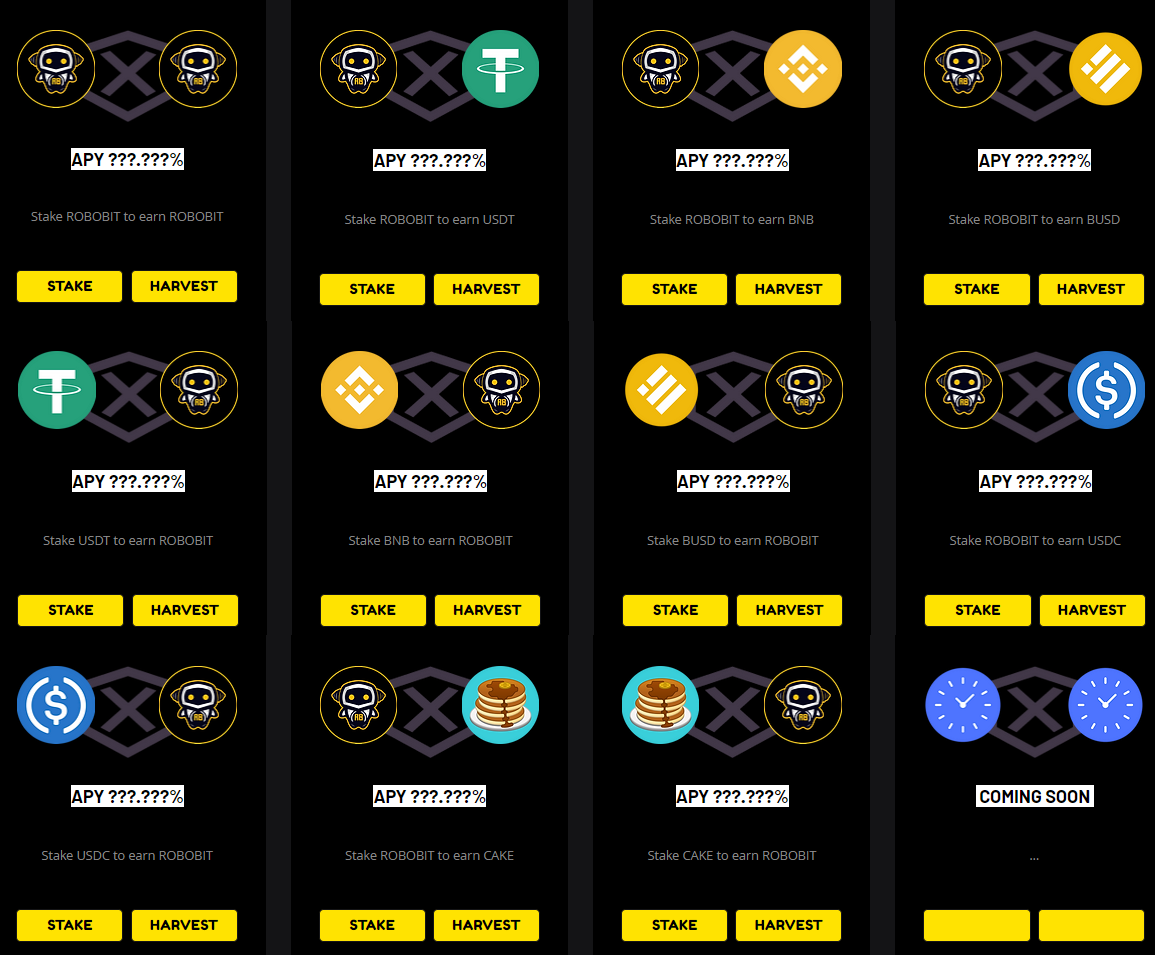 Robobit Finance Audited by SafuAudit
The fact that the projects are audited by 3rd parties is an indication that the project can survive in the crypto ecosystem. Audit authorities examine the project in all its details and give validity to projects that meet the necessary conditions.
The Robobit Finance was audited by SafuAudit and the audit report can be seen below the link.
Robobit Token
As the currency of the Robobit Finance Ecosystem, the Robobit Token ecosystem will be used in the staking and trading stages. Detailed information about the token is listed below.
%2 Insures LP and keeps RoboBit stable
%2 RoboBit's marketing campaign
%2 RoboBit's USDT auto reward
%2 RoboBit's developers and team
5 Years Liquidity Lock
1.000.000.000 Supply
7% Buy tax - 8% Sell tax
The Robobit Token Pre-Sale will be held on the Pinksale Finance Platform. The minimum buy amount is 0.2 BNB, and the maximum buy amount is 10 BNB for each investor. The below link can be used to join the Presale of Robobit Token
Presale of Robobit Finance ( Presale on 12th May 14:00 UTC ⏰)
Robobit Finance Team and Roadmap Of Project
A roadmap and an experienced team are very important in DeFi projects. Teams that have determined the next step to take achieve success more easily. You can find the detailed roadmap and team information of the project below.
Team Structure
James Kay- Founder
David Wood- CEO
Jacob Swanson- Programmer
Sarah Wennigrem- Marketing Specialist
The roadmap of Robobit Finance can be seen on that link.
Robobit Worth Following
Robobit Finance has high staking revenues, a successful team, and a solid roadmap, looks like it will soon take its place in the DeFi ecosystem. If you want to follow the project more closely, you can use the following communication channels.