DeFiChain is a blockchain network built so that decentralized finance can be used within the Bitcoin ecosystem. This network is decentralized, secure, and scalable. Launched in July 2020, DeFiChain is focused on replacing traditional finance and banks. Since it is a decentralized platform, it does not require the use of any intermediaries, and transaction costs are very low.
Services offered by DeFiChain include wrapped tokens, lending, asset tokenization, pricing oracles, liquidity mining, staking, and dApps. DeFiChain, the proof-of-stake blockchain, is a fork of the Bitcoin blockchain. In this chain, dApps can have more advanced application areas through special processes, also known as DfTx.
DeFiChain Bridge
DeFiChain has facilitated efficient and fast liquidity transfer between the two chains by connecting with the BNB Smart Chain. With the DeFiChain Bridge, it was possible to exchange tokens between chains in real-time, eliminating the complexity of cross-chain transactions and making the network more functional. DeFiChain also has a direct bridge with Ethereum.
The DeFiChain Bridge gives investors on two different chains access to DeFiChain's decentralized stocks and high rewards. Users do not need to provide their credentials or bank account information in DeFiChain. DeFiChain Bridge also has an API platform that allows service providers to seamlessly integrate the service. Developers building protocols on DeFiChain can evaluate the API to leverage its larger and growing user base.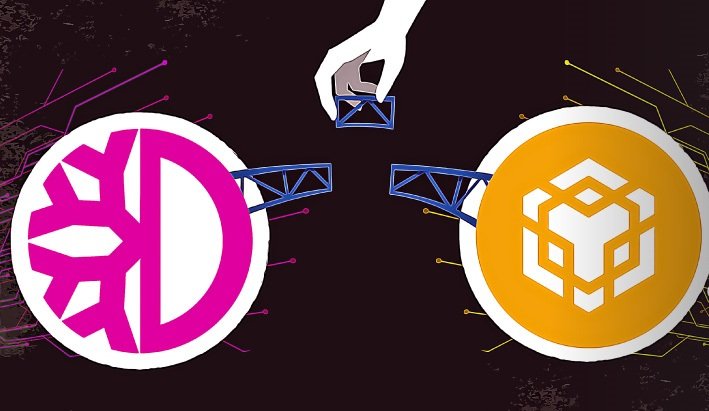 DeFiChain Functions
DeFiChain offers an easy-to-use, good return opportunity and an ever-increasing amount of assets through its mobile wallet. Aiming to attract investors interested in other financial opportunities beyond buying and holding cryptocurrencies, DeFiChain is focused on the European market.
Fort Canning
Fort Canning has been DeFiChain's biggest update since its launch. Investors can buy, hold and sell decentralized tokens that reflect the price of real stocks, indices, and commodities traded on the Nasdaq. The update enabled the creation of the decentralized stable coin dUSD and the ability to lock collateral for tokens such as dBTC, dETH, dUSDC. You can use DeFiChain if you live outside the US or want to invest easily in certain stocks on the Nasdaq.
Yield Farming
Liquidity pools on DeFiChain usually consist of the dUSD - dAsset trading pair. Users can generate returns with APR of up to 60% by providing liquidity, for example, in the dFB - DUSD, ie Facebook Inc and USD liquidity pool. Thanks to the low volatility of the American stock market, users can earn low permanent losses and high rewards.
DFI Coin
The native coin of the DeFiChain ecosystem is DFI. DFI is used as a fee for governance and transactions in on-chain improvement proposals. DFI is also used for the creation of new tokens and the submission of community offers on the network. The total supply of DFI coin is capped at 1.2 billion. Things like running smart contracts on DeFiChain, using other crypto assets as collateral to borrow, and running a stake node on DeFiChain all require the use of $DFI.
CakeDeFi
CakeDeFi, the most used dApp in DeFiChain, can be used for transactions such as liquidity mining, staking, and lending. Users can purchase dTokens on the CakeDeFi platform and make various transactions with them using DFI coins via the mobile wallet. CakeDeFi also aims to bring decentralized futures options to the platform. When this service launches, DeFiChain will be the only blockchain to offer such a feature.
You can build your entire investment portfolio on DeFiChain with cryptocurrencies, ETFs, stocks, indices, funds, precious metals, commodities, and more. You can maximize your returns by earning rewards with staking and liquidity mining. The staking and liquidity mining rewards are still quite high as this platform can be considered relatively young.
The below article may also interest you.