A non-fungible token (NFT) is a unit of data that is non-interchangeable with other cryptocurrencies. It is a digital ledger that stores non-fungible data. An NFT may be associated with a file or digital object.
A creator of an NFT can sell it for a profit, and other artists and photographers can sell their creations for a good price. The value of an original NFT is undeniable and as with every product, the price is determined by the supply-demand balance. In other words, an NFT is similar to a physical ID card, but it is digital. The only difference is that it's not a physical object. It's a virtual asset. It can be used for identity management. In the physical world, an ID card has to be shown at every entry point and exit point. The NFT can be used for identity protection in the digital world.
Best NFT Marketplaces
There are many different NFT marketplaces for those looking to invest in art, digital assets, and collections. Investors should consider the risks of this new industry. Because the value of a work of art, a collectible product varies from person to person.
1-OPENSEA
OpenSea, one of the first marketplaces in the market, has a valuation of $12.5 billion according to recent estimates. This platform, where especially high-value NFTs are sold and many popular artworks are published, is gaining value day by day.
E.g. Bored Ape Yatch Club collection is one of the most popular collections on Opensea. The cheapest piece of this collection, which consists of a total of 10000 different works, is currently worth 107 Ethereum.

2- RARIBLE
The Rarible marketplace has its own token. It is necessary to use RARI to shop on this platform. As in the case of OpenSea, artworks, music, and video can be exchanged here. The easy user interface is one of the reasons for choosing this platform.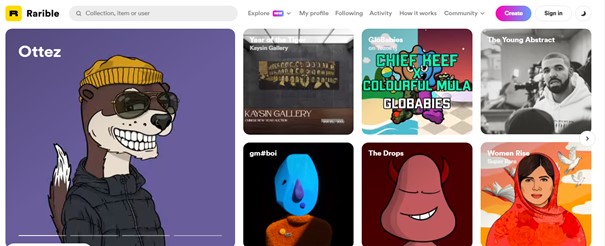 3-NIFTY GATEWAY
Founded in 2018, this marketplace is generally known as an elite platform where artists share their photographs and artworks. You can make purchases with your credit cards on this platform, where NFT sales are made with fiat currency.

''If you are interested in the NFT industry and intend to invest in; it would be useful to add the other NFT marketplaces we mentioned below to your address bar.''
Foundation
Binance NFT
SuperRare
Mintable
Theta Drop
NBA Top Shot Marketplace
Larva Labs
Axie Marketplace
Solanart
Decentraland
Makersplace
KnownOrigin
BakerySwap
Async Art
Enjin
Aavegotchi