Tank Battle
Tank Battle is a turn-based war-themed strategy game with a completely new style and variety of game modes.
- Highly experienced team including blockchain developers and game production.
Key points :
More than just a game of Play for Fun or a Play to Earn, our game creates competitions for team players and alliances to gain valuable resources, which requires strategic thinking and strength expressed through interaction and connection with other players.
Tank Battle's fundamental goal is to create a world in which each player has a role and to change community prejudices with an NFT Game product that is not only a Play to Earn but also a Play for Fun.
When minting NFT, selling items, and claiming rewards, players only need to pay a small gas fee to confirm the transaction.
4 game modes: PVP, PVE, Alliance War, Tournament.
Players will strategically arrange their squad and join in game modes. Each tank class has different characteristics and squad supporting ability depending on the player's tactics.
$TBL is the Governance token. Gold is an in-game reward. $TBL can swap for Gold.


Anti-inflation mechanism:
- NFT limited: Limit the number of NFTs created. Sell NFTs in batches of different quantities. Adjust the release of more NFTs to meet the needs of the majority of players through voting.
- Gold usage: Gold can be used directly in the game, which helps players reduce gas fees when performing transactions.
- Gold Reward Lock: Players will be taxed 50% if they claim the reward in $TBL on the first day. Every day, the tax will be reduced by 10%; on the fifth day, players can claim rewards without being taxed. Furthermore, if the player does not claim the reward within 10 days, they will receive a bonus of 10% of the total Gold reward in-game on the 10th - 15th - 20th day.
- Token Burn: In the first 2 months from the listing date to the official game launch, NFTs will be open for limited sale according to the schedule and use $BUSD to trade. NFT sales from the 3rd month from the official game launch date will be paid in $TBL. 100% of the $TBL collected from NFT sales will be burned.
NFT Marketplace:
NFTs trading: On the marketplace, players' tanks and the tank parts are the tradable NFTs.
Auction: Sellers will be able to list NFTs for sale at a fixed price or hold auctions.
NFT Leasing: Players can list their tanks for rent on the marketplace. This will be very beneficial for those who want to try out different tanks without spending a lot of money on building and upgrading new tanks.
Tokenomics:
Initial Market Cap: $293.500
Estimated TGE Mid-Jan 2022
Private round: 0.017$, 10% total supply, 10% TGE unlock (lock 3 month, linear vesting 18 months)
Tank Battle Game play
Tank Battle roadmap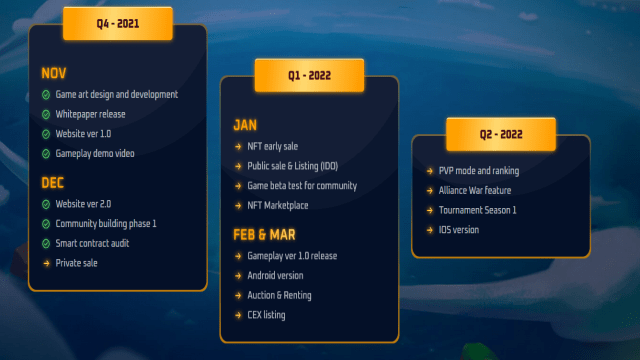 As you can see, they are soon launching the main features of their token : the NFTs and the game beta. The main development will then be oriented to update the game features and add new modes.
Further informations
If you want to know more about how to invest and how to play the games and potentially have your collectibles before any one else, be sure to check the website of the project, and join the social medias to be updated and stay in touch !